---
---
Tucson 2010
Page 1 Page 2: Mozambique Page 3
---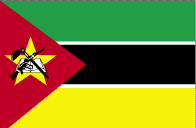 Mozambique
From the 1920's to the early 70's, Mozambique was one of many mineralogically promising locations in Africa. The country gained independence form Portugal in 1975, and two years later became entangled in one of the Cold War era, left/right struggles that plagued much of the developing world from the 70's to the early 90's.
Gem mining came to a virtual standstill, and the country's vast pegmatites lay dormant. In the last 15 years however, the country has once again come to gemological prominence. Today it is one of the primary sources of gem grade tourmaline for the cutting industry, and one of the few places in the world where the famous, copper bearing "paraiba" tourmaline can be found.
Strangely enough, specimens from this country are rarely available. There was a Mineralogical Record issue published in 2000 that was largely dedicated to the country, and yet many of the specimens pictured were from old finds.
I came across a few dealers in Tucson this year with material from Mozambique, some specimens come from recent mining and others are slightly older. I already had a few Mozambican aquamarines sitting around, so I figured this would make an interesting update.
---
MOZ1 Scapolite

Namitil, Nampula, Mozambique

5.2x 2.2x 2.1 cm

$1400

Scapolite of this quality is better known from Mpwawa, Tanzania, and crystals like this one are virtually unheard of from Mozambique (actually, this crystal would be large even for Tanzania.)

According to the mine owner, this crystal came from a small batch of 3 or 4 crystals. The others were faceted, this one was preserved.

This is an exceptional scapolite for any locality, but is doubly rare being from Mozambique. The crystal is terminated and very gemmy.

I have never seen another of this size and quality from the country.
---
MOZ2 Fluornatromicrolite

Naipa Mine, Alto Ligonha, Zambezia Prov., Mozambique

8.0x 5.5x 4.3 cm

$850

This is an exceptional specimen of this very rare, and very beautiful mineral. There are two crystals imbedded in an albite matrix, and both show good faces and a deep, blue-green color.

I have only seen these specimens offered for sale about two other times that I can remember; Mozambique produces some of the finest in the world.

Good fluornatromicrolite has also been reported from Pakistan and Afghanistan, but those crystals tend to be orange.

Better in person!
---
MOZ3 Tourmaline

Naipa Mine, Alto Ligonha, Zambezia Prov., Mozambique

4.6x 2.3x 2.0 cm

$850

Here is a new find from Tucson 2010. I showed this and the following piece to a geologist friend of mine, and his first instinct was to identify it as beryl.

Despite the hexagonal nature of the crystal, when it is flipped around, it can be clearly seen to be tourmaline.

This specimen has a brightly colored blue cap, almost verging on what could be called "Paraiba". It is actually a watermelon crystal, and more interestingly, is hollow!

I consider this to be one of the more interesting finds of the show, and certainly among the most limited (there were only a few crystals, and these are the best two)
---
MOZ4 Tourmaline "Paraiba Blue Cap"

Naipa Mine, Alto Ligonha, Zambezia Prov., Mozambique

4.0x 2.4x 2.1 cm

$750

Here is a new find from Tucson 2010. I showed this and the preceding piece to a geologist friend of mine, and his first instinct was to identify it as beryl.

Despite the hexagonal nature of the crystal, when it is flipped around, it can be clearly seen to be tourmaline.

This specimen has a brightly colored blue cap, almost verging on what could be called "Paraiba". It is actually a watermelon crystal, and more interestingly, is hollow!

I consider this to be one of the more interesting finds of the show, and certainly among the most limited (there were only a few crystals, and these are the best two)
---
---
---
Tucson 2010
Page 1 Page 2: Mozambique Page 3
---
---